I remember, a long time ago, being saddened by the realisation that while in previous times a single individual could create something incredible, in our world it takes huge teams of people and complex, expensive projects, to truly innovate and create something groundbreaking. I wanted to live in the days where one person could build a brand new computer in their garage (Halt and Catch Fire has not helped me forget this..) and turn that into a company. Or the days when inventing the aeroplane involved a couple of guys and some rope. Meeting our CTO Al, one of the other founders of Ometria, was probably the only experience I've had where I've watched a single individual create something incredible. Al wrote the code for all parts of the very first version of Ometria in 3 months, entirely on his own. But even that didn't last – now we're a team of thirty, with half of our team building the product.
I read a great book by Mitchell Harper, the founder of Big Commerce recently, and in it I saw a quote which reminded me of this same idea, and prompted me to write a blog post which I've been meaning to write for a long time. The quote was:

Now most people who run or work for technology companies love what they do. They love to work. And that leads directly to the first type of thinking. Especially as that kind of thinking creates a very quick feedback loop, and a very direct endorphin rush. When I tick off something from my to-do list, it feels like I've achieved something, and I feel happier. When I close a sales deal myself, I love the feeling of being directly connected and involved, and making a direct impact on the company's progress.
The danger of course, is that this is precisely 2X thinking. There is only so much we can do ourselves, as individuals, as I learned early on.
As I've been trying to get myself out of this mode of thinking, and into the 10X mindset, I've been analysing the things I do that are conducive to it, and those which are not.
There is one part of my professional life which I believe has always been entirely aligned with the 10X mindset. That part is how I handle the way I communicate with Ometria's investors and shareholders. And I've seen many other people totally miss that same opportunity.
I'm an investor in 30 early stage technology companies myself. Well actually, 20 now. One has exited and the others have failed. But the point is that I've been on the other side of the founder-investor relationship with 30 different founders. And, putting aside the fact that many of those founders are now personal friends, they fall into three clear groups.
The first group don't see investors as potential sources of help, nor do they respect the responsibility of being on the other side of the investment. Updating shareholders is seen as a chore. It starts off as a collection of irregular short updates, and promptly disappears into the ether. These companies may do well initially, but from my small dataset, after a bit of time they seem to go downhill.
The second group respect the responsibility and ensure that communication is highly regular. Even as the company grows bigger, the communication continues. It's mainly generic, in the form of a summary update, but all shareholders get clear visibility into the company's challenges and performance.
The third group is the one that investors enjoy working with the most. They not only respect the responsibility of taking external investment, but they also do what they can to leverage the shareholders to help them grow the business faster. They appreciate that these individuals can help them do things they cannot do themselves. They send clear updates, or organise regular shareholder events to get everyone together and have a discussion about ways of helping. They don't ignore the early shareholders just because they can no longer give them money, but instead focus on the other value they can bring.
From the very beginning of Ometria, I knew that I was setting out on a journey that was beyond my individual capability. As a first step, I needed to build the perfect founding team, which after a year I succeeded in doing, bringing together the four founders who started and have been running the company since (P.S. we are hiring). But I knew that even that wasn't sufficient, so as a second step I spent a long time building relationships with people who had much more experience than us, and could help us build a truly great business. And through this concerted plan, we've been lucky enough to have taken investment from some of the most incredible individuals in London tech, and beyond. As I go through my cap table from our first two rounds, I see 18 founders of successful tech businesses, almost a dozen CEOs, multiple professional venture capitalists and generally the most amazing group of people. These individuals believed in our vision for how data will revolutionise the way that retailers understand, and communicate with, their customers. These individuals believed that our team would have the ability, intelligence, and grit to deliver on this vision. And these individuals trusted that I would treat their investment with absolute care and respect.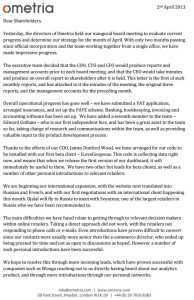 And, without realising the specific concept in the quote above, I operated with a 10X mindset from the very beginning when it came to communicating with our shareholders. Right from the start, I sent formal shareholder updates after each board meeting. I even did this when the shareholders were just the four founders. They found it weird, but I believe it set us up for this exact mindset. In fact I dug out that first update just now for some nostalgia – you'll see the first page of it here.
In a few weeks' time I will be sending out our 34th shareholder update. In it, as usual, I will be describing our progress and our challenges, but I'll also be highlighting all of the additional value that our shareholders have brought during the previous period. Every time I send a shareholder update, which I do after each board meeting, I list the ten or so individuals who have truly moved the needle for us during that time. Our biggest ever customer was pushed over the line by one of our shareholders. Our second biggest customer came through an introduction from one. Yesterday, I was on a call with the CMO of Burberry. All of this happened through the help of our investors and shareholders.
And in addition to this value-add to our business itself, it's also been humbling to receive regular feedback that this approach has been appreciated by our investors. Many have emailed me to say that our updates are the best they receive out of their whole portfolio. Two have asked whether they can send them on to their companies to use as an example of what they should do. And most humbling is the fact that twenty of our existing shareholders have just invested once again, in our third round (watch out for an announcement soon).
I consider my relationship with our shareholders and investors one of the most important aspects of my role at Ometria. Shareholder updates are not a chore to be ticked off the to-do list. They are an opportunity, and I see them as that each and every time. And through having that mindset I believe that we have truly achieved 10X more than we would have done otherwise.