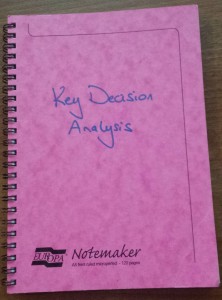 Christmas is my favourite time of the year, but for slightly unusual reasons. I love the fact that I get to spend time with family, but even more than that I love the absolute sense of calm that settles on London during this period. The streets are empty, few people are at work, no one replies to e-mails, and that rushed feeling subsides, leaving time for reflection and creativity.
I use this quiet time to catch up on some of the slightly longer projects that I've had to put off over the course of the year, such as the Ometria Culture Deck which I'll post about soon, and also to complete my annual Key Decision Analysis process which I wrote about this time last year. The details are described in last year's post, but the general gist is that goal and success-oriented people have to make more decisions than they have time to logically analyse, and so it becomes important to be able to make decisions based on instinct.
However to make sure that those instincts are actually taking you in the right direction, and to improve the accuracy of your judgement, a feedback process needs to be put in place, and this is what I call Key Decision Analysis. I have an actual notebook (pink, yes, I know, not sure how that happened..) in which I record every vital decision that I make. I then come back to it a year later, and write down the outcome and my learnings from it, and at the end of a full year, I summarise all of the learnings that I've written down. So in December 2013, I analysed the decisions that I made in December 2012, and today I went through all of those 2013 learnings and created the list of 10 takeaways below, based on the outcomes of all the instinctive decisions which I made over the course of 2012.
1. If you're an entrepreneur, then stop making backup plans.
I am an entrepreneur. This is what make me excited to get up in the morning, to work for 16 hours, to be social and to get things done. There is no doubt about this, and any other path in life will just lead to unhappiness, so I should not be making any secondary backup plans, or considering other alternatives – doing this is a waste of time. Instead I should be optimising for success as a life-long entrepreneur.
2. Take large-scale, high-return calculated risks.
I've now spent time on both low-risk and high-risk strategies, and have had enough failures and successes to be able to make a rational judgement here. Investing £100k and making £110k back after a year does absolutely nothing to achieve the kind of life I want to have. If instead of buying the first iPod you bought Apple shares, you'd have $26k dollars right now. Opportunities like that exist all the time, and we just need to find them. Not all of them succeed, so you just choose the best one at each time, and keep going. Ometria is that opportunity for me right now.
3. Labels and awards are fake. Ignore them and focus on real success.
I've learned that I should be ignoring the various awards and labels that one can get – winning competitions, getting certificates or qualifications. Each of these can potentially be relevant to genuine success, but we are often trapped into a process of going through the motions just for the sake of getting them. If winning the competition gets you something you need to succeed, then great, but if it's just an ego-boost, then down the line it ends up being just a waste of time.
4. Formal education is largely irrelevant in today's world.
I can safely say that I acquired much more knowledge in the year since Cambridge than I did in the year I spent at Cambridge from 2011 to 2012. Even though I worked just as hard during both years, and the year at Cambridge was solely focused on acquiring knowledge. Until formal education can catch up and start actually teaching the skills required for success in today's world, independent learning and actually going out there and doing things is a much better option.
5. A network and a purpose is more important than skills.
I had the option of spending time acquiring proficiency in a skill, say data science, or acquiring a large network. I've seen a number of people be "networkers" – where their role is simply knowing lots of people and putting them together – and never wanted to be one of these. The key, I've realised, is to be a networker with a purpose. If you are building something of value, then you have a purpose behind building the network, as well as an ability to truly leverage it. This combination is much more powerful than simply having a skill, and hence gaining it is a better use of time.
6. Your close personal circle must contain people who are going to change the world.
My approach to investment is very specific – I use it as a method of identifying the best founders here in London so that together we can build many businesses over the coming decades and turn London into a technology ecosystem that can directly rival Silicon Valley. I've had the chance to meet many founders over my years doing this, and have seen a number of them turn into genuine world-class leaders. These specific individuals are the people I want to be surrounded by, and from now on my investment decisions are based entirely on this.
7. Cut out people who lack character or integrity immediately.
This appeared on last year's list, and I consider this my largest single failing and weakness. I have continued to give people too many chances to improve, or to change. People do not change. They may get better temporarily, but this just creates a false sense of security, which is always followed by an even bigger problem. This must not be allowed to happen again. If they demonstrate any kind of lack of character or integrity, they are out of my life or my organisation immediately.
8. Only hire people who are independent thinkers.
It's easy to fall into the trap of hiring people who are good at the job they are supposed to do. In the initial period this seems great, because your time is freed up. However to build a genuinely scalable organisation, these people must be able to do more than just do their job – they must be able to improve it, to adapt it. They must be able to think about these things themselves, and not rely on you to come up with the suggestions for them. No more "doers" – in 2014 it's "thinkers and doers".
9. Push everyone around you to achieve greatness.
Not everyone has a relentless stream of energy and motivation to keep improving themselves. But if you do, then the best thing you can do is push people around you, whether friends or employees, to do better. Give them more responsibility, more pressure, and higher expectations. The right people will flourish in this environment. They will become happier and they will thank you for it. And if they don't, then see point 7.
10. Don't be too cheap.
Being cheap is a false economy. A major lesson of the year has been a positive ROI on expensive advisors – solicitors, accountants, etc. Hiring cheap ones would have led to far worse outcomes, and is simply not worth it. The same applies for employees, and just about anything else in life. Pay the maximum you can afford and get the best people that you can. It always works out better than the alternative.
So here we are again – another Christmas, another New Year's Eve, another brand new year, and another list of Key Decision learnings to take into it. Merry Christmas, Happy New Year, and thanks for reading! On the 1st of January 2015, I will be doing this again, this time analysing the outcome of 2013's most important decisions. It will be a good one – since it will include, as I've written it in the book, "the most important decision of my entire life".
May 2014 be the year in which you achieve all of your goals, except for one – so you always have something to strive for!