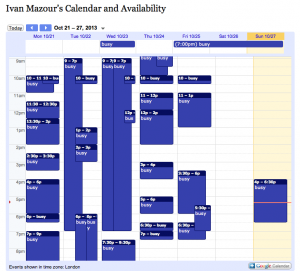 A while ago, I found myself spending a lot of time thinking about something – the intersection of two topics: PAs and calendar management. I realised that I had a very specific pet hate. That pet hate was getting passed over to a PA when arranging to meet someone. Every time I saw an e-mail being copied to "my PA", "my EA", or a newfound term to describe what used to be known as a secretary, my heart sank. Iwould take a few deep breaths, and silently hope that this would be the one time that goes smoothly. And then it inevitably wouldn't.
Now this all may seem like an exaggeration. In fact on a first read, it might seem absolutely ridiculous. But consider my reasoning fully before judging.
First of all, what's the point of a PA? The point of a PA is to simplify the life of their employer, allowing them to concentrate on matters they consider more urgent and relevant. On occasion, the role of a PA will include dealing with external parties. And in some cases that external party is me. Now the employer, when arranging a meeting, certainly does not want to cause additional hassle to this external party – or at least I hope so, so let's assume that's the case. The PA's role is to simplify matters for both people involved. A project manager, as it were. Life with him or her (we'll use her from this point on, as statistically this is more likely) should be better than life without her.
Personally, I come at this with the same approach – I want to simplify things for everyone involved. I want to make it easy for the person I'm meeting, I want to make it easy for the PA and I'm pretty sure I have a process that's extremely effective. What I absolutely don't want is 20 e-mails going back and forward. Even worse, imagine if I passed their PA over to my PA and then the two of them would sit there bouncing e-mails and asking their employers until they finally found something that worked. Just thinking of the wasted (wo)man hours gets me riled up. So that's never going to happen.
Instead, I send them a link to my online calendar, and a starting date from which I'm available to meet. "Please suggest several free slots that work for both me and Mr. Smith, starting from the 11th of November, leaving at least half an hour for travel time." Now I cannot imagine anything that is easier. I've just saved this PA half an hour of replying to e-mails. All they have to do is locate the slots, send them to me, and I'll choose one. If there is only one, then they can send that, and we'll go for that. In the word of the wannabe Russian meerkat, simples.
And yet, nine times out of ten, this clearly efficient process breaks down. The PA never bothers to actually read the e-mail. She sends a message saying how about the 5th of November, even though this is a week before I suggested, and clearly marked as a date on which I am Istanbul (true story). So I have to respond and ask them to try again. These days my response just says "Please re-read my e-mail."
Then they get back to me, and I confirm a slot, and then I ask them to send a calendar invite. The last, final, rather basic step. I then inevitably receive something along the lines of "Meeting with Ivan Mansour at the ARts Club" (true story again). Firstly that is of no help at all as it doesn't have the name of the person I'm meeting, secondly my full calendar is shared with a large number of people so that is embarrassing for them to see both my misspelled name and the two capitals in a word, and thirdly I frankly can't help letting the PA's lack of professionalism rub off on the person who she works for. Now the person I am meeting is almost certainly not like that – but the fact is that every member of your organisation represents you, and your PA more than most. They are a direct extension of you. So now any time I think of that person, I can't help but remember that. They have been tainted, without even realising it.
So in this process, time has been wasted, the person they are arranging a meeting with has been disappointed and they have shown themselves, and hence their principal, to be unprofessional. And that's just what happens regularly. But that's not it. Then you have the situation when the PA forgets to tell their boss, or doesn't actually put it in their calendar, and I'm left sitting in a restaurant for half an hour on my own, before having to walk out. Twice. (true story).
Now I simply don't see a way to avoid this, other than to not use a PA for managing a calendar. Or to get someone extremely diligent and professional who will ask for a salary of 4 PAs. I have so far found only one, Petrina, the assistant to the CEO of Huddle. She is awesome. If only she had a twin. So my solution is simple. Don't use a PA to manage your calendar. I have many friends and colleagues all of whom could easily hire one, but who choose not to. They understand that technology has perfected this aspect of our lives, and that it is simply not worth outsourcing it.
But they understand one more important point as well. Every e-mail is an opportunity to build a relationship with the other person. It's an opportunity to see how they write, how they think and how they operate. It's also an opportunity to show them how you write, think and operate. To demonstrate professionalism and to build a rapport. If our business life is focused on achieving great things, then we are always trying to identify the people around us who share the same approach. If you are willing to dedicate an hour to meet with someone, then that relationship is surely worth an extra ten seconds to exchange e-mails to set up a meeting. I enjoy those e-mails. They give you an insight into the other person before you even get a chance to meet them. They set the meeting up so you are not two strangers, but you are two people following on an existing discussion. They give you the chance to frame the other person's view of you in the way that you view yourself.
So as a core principle in life, I choose to organise my own calendar. Yes it adds some extra work to every day of my life. But the benefits I've seen from doing it have been far far greater.
———–
Note for PAs.
If I have directed you to this post, then it means you need to arrange a meeting with me and I would like you to follow this process. Please read the points below and kindly follow them.
1. Go to the link I have shared with you. You will find my schedule, online.
2. Locate several slots that work for both your principal and me, allowing at least 30 minutes for travel time, preferably 1 hour.
3. Note that a blue bar at the top saying Busy means the whole day is busy.
4. E-mail me back with details of those possible slots.
5. Once I confirm one of them, please send me a calendar invite with the following information filled in:
6. "Meeting Xxxxx Xxxxxxx and Ivan Mazour" as the title of the meeting, with the Xxxx being your principal's name. Feel free to change the order of the names if that is easier for your principal, I just need to see his or her name in there.
7. The address of the meeting filled in as the address field. If it is at my office you will find the address at the bottom of my email signature. Please make sure this is filled in. If it is at your office or elsewhere, please make sure the address is filled in in full, including postcode.
8. I will confirm by accepting the calendar invite. Please consider this my final confirmation.
9. Thank you for organising the meeting.
———-