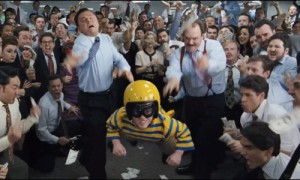 For the past two weeks, I've been running an even more intense selection and hiring process than our usual one, with it all culminating last Saturday with the final stage – "The Tournament". It went so well, that I wanted to share the details and learnings in a blog post.
The role I was hiring for was lead generation for Ometria. Having commercialised a few months ago, we are now pushing ahead with validating customer acquisition channels. We're running PPC and other forms of digital advertising, we are working with partners, we are taking stands at conferences, and we will now be doing direct sales as well. I spent a few months getting input from the most knowledgeable people about the best approach to test the direct sales route, and had suggestions ranging from spending £20k on a search agency who would find us a superstar for £100k a year, to hiring a graduate with no skills to man the phones all day ever day.
In the end it was my friend James, who I've seen become a true superstar at sales at the largest London-based B2B SaaS business, who gave me the best advice and taught me a framework for getting the right people. Firstly, you need two. Salespeople are by their very nature competitive, and if they don't have someone to compete against, they just won't be as productive. But of course they need to gel, and work as a team as well, so you need to see how they work together too. Secondly, a senior person will be used to having a strong brand, and pre-existing contacts, and will not be useful at all for an early-stage company like ours. That's a recipe for disaster, as you'd have to wait several months for them to give notice, and several more months to then discover that they aren't delivering. One of the companies I've invested in learned that lesson very hard, and spent a substantial amount of time and money on a senior sales team that didn't deliver.
So the plan was to get individuals who were fresh, new to sales, but had exactly the right characteristics to be successful in the role, and who were specifically motivated to build a career in software sales. This is the opportunity that Ometria could offer them – extremely quick progression to high remuneration packages, growing as the company itself grows. So we needed young, talented people, with the right character and the right cultural fit.
For two weeks after we made this decision, I had no social life. Having placed adverts in about 10 different places, from Gumtree to LinkedIn and WorkInStartups, I spent every evening digging through CVs, screening out people who either had too much experience (if they were so good at sales, why were they taking an £18k job?) or not the right attitude and character. On four separate occasions, we conducted an hour's worth of telephone interviews, where we'd spend 10 minutes asking candidates some leading questions, and leaving them to just talk. Since telephone skills were vital to the role, this would be an excellent way of screening out people who weren't likely to be successful.
Those who passed both the CV screen, and the telephone interview, would then get a long e-mail explaining the nature of the company culture, the direction that the company was going, and the specific details of the role – that we'd expect them to be the first ones in and the last ones out, to be on the phone for most of the day, to get to know our target market better than anyone else, and to be constantly closing. We wanted, and needed, them to be so successful, that their overall remuneration was higher than everyone else in the company, including the founders. This same e-mail then invited them to The Tournament – a sales training seminar and evaluation day, held on Saturday at our offices.
Saturday arrived, and we found ourselves with a diverse group of 8 fresh-faced candidates, from 8 different countries, sitting around a table, waiting to find out how the day was going to turn out. As a warmup, I spent a bit of time talking about Ometria and our product, the value of the product and what kind of customer we were targeting with it, the progress we'd had so far and the plans for the coming year. I then outlined the schedule for the day, and we kicked straight off.
I considered writing out the specific details of the day, but since we'll be running these tournaments regularly from now on, I don't want to give anyone an unfair advantage, in case they stumble onto this blog post. However I can tell you how the day was structured, without giving any details of the tasks. There were some introductions, and a test of listening skills. There were two team games – one that tested their ability to both collaborate and debate between them, and another that tested their presentation skills. We used these team games to pair people up and see whether they would work well together going forward. There was a test of direct sales ability, and there were one-on-one interviews, like the semi-final of The Apprentice.
At the end of all of this, we gave them the opportunity to ask us whatever questions they wanted, in a group environment. It was very easy to see those who were passionate about the role, and those who didn't want to ask any questions at all. Combining all of our notes and thoughts, we gathered together and selected a shortlist of candidates to stay, and thanked the others for their time, informing them that they were not successful.
At this point, we took a short break, to give the candidates the opportunity to recover some energy. There was only one clear way to dissipate any tension and prepare them for the next step – to watch Alec Baldwin's epic speech in Glengarry Glen Ross. This is not, of course, what working for Ometria is like. But it's both entertaining, and motivational, and a great bonding experience for us to have with the candidates.
Once the short entertainment break was over, it was time for the usual final step in any recruitment process that we run. As I've described before, for anyone to join the team, they have to run The Gauntlet. There were five of us present on the day, and the three shortlisted candidates saw each of us, in turn, spending about twenty minutes with us one after another. It's a solid hour and a half of non-stop questioning, with some of us being very harsh and testing, and others being softer and selling the opportunity.
At 6pm, we thanked the candidates, and told them that we would take two hours to consider our decision and would call each of them within that time to inform them of our decisions. The five of us then sat around a table, considering each shortlisted candidate in turn. We had seen the candidates perform both on their own, and in teams, and it was not easy to choose between them. All had different backgrounds, all had demonstrated impressive ability, and all had different reasons for having a high chance of succeeding in the role. In the end we looked at it in terms of fit for a sales role – who were the two most likely to enjoy the sales process, and to want to turn it into a career. We called the candidates, and ended the day with two new hires. All of the other candidates got personal e-mails from me, explaining our decision, and outlining the reasons why they were not chosen, and why the winning two candidates were. Out of the whole day, the nicest aspect for me was to receive feedback from those candidates who didn't get the job. As a founder, these are the moments you live for.
"You have an extremely efficient hiring process going on, and I must say I'm impressed" – A.O.
"Thank you for taking time to provide me with a clear and very objective feedback. I want also to thank for the efforts and thoughts that you put in order to organise such wonderful day. Honestly, from my first steps into your premises, I really felt determination and a very positive energy coming from you all. I wish you all success an prosperity." – O.D.
From deciding that we needed a sales team, to getting two great candidates in the office, calling up potential customers – all in just two weeks. It was an intense process, and an excellent one. Even our CFO Djalal, the ultimate cynic of my usual reality-distortion field, agreed that the reality matched the expectation that I had set ahead of the day. Next time we need to hire sales people, we will do it in exactly the same way. All that remains is for the two new members of the Ometria team to demonstrate that they really are exceptional, and that we were right to choose them. Watch this space.
Update – 8th June 2014.
Of the two people whom we hired, one proved to be a true Ometrian, and the other didn't. It was very hard to let him go, but we had to. Yesterday we held The Tournament for a second time, to fill some more sales roles. This time we had 10 candidates, with a huge range of ability, experience, and attitude. After a twelve-hour day, we chose two and are again excited to have them join and show us that they are one of us. And once again, our process was validated with emails from some of the amazing candidates.
"It was an absolute honour to visit you and your team today, and it is an experience that I will never forget. I would just ask that if you ever feel that there is a role for me at Ometria, to please consider me for the role. The project that you have at Ometria has so much potential, and is a project that matches my ambitions. Good luck for the future to you and the team, and please pass on my most sincere congratulations to those applicants who were successful in securing a role with your unique team."
"I would like to thank you for giving me this opportunity to apply for Ometria. I found today's assessment a great learning curve in my young career."
"Thank you. I thoroughly enjoyed the day. I really like your brand and vision, and hope that in the near future another role may come up and perhaps I can be considered."
And one from the original Tournament, which was left as a comment on The Ometria Culture Deck post:
"A few months ago, I had the privilege of spending one day with Ometria, and could definitely tell you guys have something truly special and achieve great things."
Update – 11th January 2015.
Yesterday we held the third tournament. The overall quality of candidates was once again an order of magnitude greater than last time. The hardest aspect of making the decision is no longer ensuring we get someone who will be good at the role, or a good cultural fit – now the problem is that word of our culture has spread, and most people are there because they want to join Ometria, not because they want the specific business development executive role. And we want people who want to do that role. So most of the process is about working out who is actually going to last in it, and making sure we get that right. We had an amazing candidate, with an impeccable academic background, and total ability to perform, whether it's in listening, speaking, presenting, or selling on the phone. However it was clear immediately that the role was not the right fit, and she was there because of us – because of the Ometrians.
It was great to once again validate that our approach to hiring brings value even to those candidates who do not get selected. One e-mailed this morning to say "Thank you so much for your feedback. It means a lot to me that you put the time to evaluate my performance and I will definitely work on those things! I just want to thank you and your team for your efforts into putting together such a valuable, great day and I'm so lucky to have been a part of it."
Another wrote "Thank you for the opportunity, it was a great experience and one that I will never forget. I thought the day was well executed, giving all the candidates a chance to excel throughout. I was disappointed to leave early but knew the telephone task, being one of the key tasks, let me down. To fail on a task that would predominantly be the nature of the role is disheartening but something I will definitely learn from as it was very much new to me."
And, as is always a pleasure to read, one of the people we did choose signed off his first email after being told as "W. M. – Excitable Ometrian"