Over the past decade I have founded a number of companies – seven, in fact. All of them are still running, even though not all have gone well. Some I started on my own, others with a co-founder, and others still with several co-founders at the same time. As with any skill, repetition leads to improvement, and from starting each of these companies I have learned a huge amount – which I have then tried to apply to the next one along. And pretty much every time, although I had prepared for what was now expected, something else would come out of the blue to teach me another lesson. For a while now, I've wanted to write down the main reasons that I feel led to the demise of the unsuccessful companies, and summarise the lessons that I have taken away from the experience.
Three Failures
Interactive Art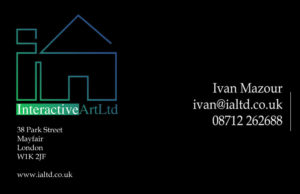 Interactive Art was not my first business venture, but it was the first that was set up as a proper Limited Liability Company and involved a business partner. I had by that point gained several years of experience in the property market doing basic development and investment, and my friend had been running a company of handymen, so we partnered up to do luxury smart-home installations and renovations – combining technology with high-end design.
Initially everything went well – I was the brake pedal, running numbers and analysing our strategies, as well as doing system design for our installations. My business partner was the accelerator, getting clients, promising the world, and motivating the team. The first flat went well, as did the second, but then we realised that we had not put any capital in the company and weren't able to afford a support and maintenance team. Things inevitably went wrong after installation, and needed to be fixed, and this took time away from any new projects.
On top of this, I wasn't able to spend much time on the company for a few years from 2007, and by the time I turned my attention back to Interactive Art, there was no team left, the brand had not been developed, and other companies in the space – which had been new and very exciting – had now grown to a size so large that we could no longer compete. I stepped away and let my business partner continue with the company.
Sapientia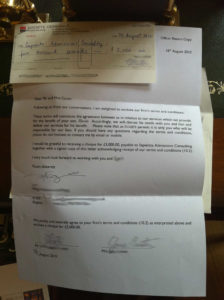 For years I had wanted to leverage my experience of getting into Cambridge – it was a difficult journey, involving moving here from Russia, learning Latin and Ancient Greek when I was 11, getting a King's Scholarship to Eton when I was 13, and doing twice as many A-levels as everyone else when I was 18. And even then I still didn't get in the first time, and had to get pooled to another college..
I was able to analyse the experience, realise what I had done wrong, and distil it into a process that could be taught to others. But I knew that given my full-time work with Park Street Estates and Innova Kapital, I was not able to run a business of this nature myself – consultancy requires a huge time commitment. In 2010 I met someone who had faced a similarly difficult journey getting into Harvard having originally been born in Singapore, and we got chatting about setting up a company to help other people get into top universities, both here and in the US.
From the start we came to a very fair arrangement – equal shareholding split, a full-time role for my co-founder, and a salary to match. I would do business development, without taking a fee for it, and she would do the consultancy work and be paid. The rest of the profits we would share equally. By the end of the first year we had 10 clients. By the end of the second, our turnover was £300k. The business development had worked.
In my head, this was to be a fantastic passive income stream. I had established a company, found a great person to run it, and left her to it. Although I could have been a director, I had other matters to attend to, and left all of the responsibility to her. At the end of the second year, expecting a fantastic dividend given the number of clients I had located for the company, I found that the accounts were empty. Everything had been expensed. And as the third year started to roll by, my co-founder stopped picking up my calls, as well as the calls of clients.
Throughout the following year, I would sporadically receive phonecalls and e-mails from clients, first asking if she was ok, then getting angry, and finally taking the company to court. As a shareholder, I had no legal responsibility, but as the person who had brought them in as clients, the responsibility I felt was huge. A three year entrepreneurial experience ended with me earning almost nothing, and spending a huge amount of time and energy to re-build lost relationships. As soon as I possibly could, I transferred my shares to her and decided not to have anything else to do with the company.
42 Tasks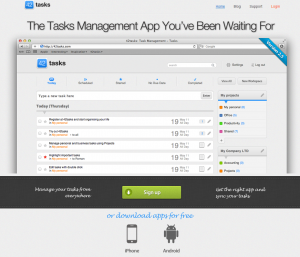 42 Tasks came out of me needing to manage a number of teams simultaneously, across multiple companies, but with some people involved with all of them at the same time. There wasn't an online tool to do this, and the market was clearly crying out for it as entrepreneurship was becoming more and more prevalent.
Our project manager at Innova Kapital was born in Uzbekistan and had done some technology work there prior to moving to the UK. He still had good connections with the community there and was able to find a developer and designer who were willing to work for sums which were simply too good to be true. We hired both of them and work commenced.
The four co-founders of 42 Tasks quite literally had no idea about how to run a tech company or build a tech product. We were all geeks, and knew all about technology as consumers, but we had never had actual commercial experience in this industry. And as all first-time technology entrepreneurs do, we were convinced that we just had to build our product, and it would immediately go viral.
The product was built quickly, although with little polish. We had an Android and iPhone app as well as a slick online Ajax interface, which had only just started to become popular at the time. Some blogs covered us, and we got 10,000 free users signing up. One per cent of these even converted to paying users, at the impressive price of $2 per month, a price based on absolutely nothing. And then that was it. And we sat there, wondering what to do next. I went back to Cambridge to learn some more maths, and immerse myself in technology entrepreneurship, and 42 Tasks continued to limp on. I, personally, find it immensely useful. At this current moment in time, I think about 5 other people do too.
Three Lessons
The first lesson is about choosing your co-founders. At Interactive Art, my co-founder wasn't interested in pushing the company forward when I wasn't there to help. At Sapientia, my co-founder got carried away with expenses and selfishly destroyed the company. And at 42 Tasks, my co-founders, just like me, didn't know what they were doing.
At Ometria, I am working with three co-founders. Two of us are from 42 Tasks, and we have spent the past three years ravenously absorbing every book, article and course on creating a successful technology company. The other two have a decade of experience in the industry. Between us, we know what we are doing. This is how it should be done. I'm still pretty sure that something unexpected is going to jump out at me – but this time I am ready for it.
The second lesson is about control. At Interactive Art we shared control, but as soon as I didn't participate, the company's growth stopped. At Sapientia I never retained any aspect of control, thinking that I could trust my co-founder, which turned out to be a mistake. At 42 Tasks, we weren't able to stay in control, because we simply didn't know how to.
At Ometria, all four of us are Directors, and the quorum for a board meeting is four. The legal paperwork was carefully crafted over a period of months, to make sure that each of us was happy with our position and the company's decision process. Control is set up to be both legally protected, and psychologically agreed to by each of the co-founders. We all understand how important it is to stay on top of the company's operation, and we all feel that given our experience, we know how to do that.
The final lesson is about having enough capital for the market you are entering. Interactive Art needed money – we should have hired a team of support engineers from the start, leaving us and the main builders to do additional projects. Sapientia didn't need any capital at all, and this was a great lesson. 42 Tasks needed a stronger development team and a marketing budget, and we didn't allow for either.
At Ometria, we calculated what we would need from the beginning. Our CFO built a model, and we assumed that we would not have revenues for two years – in case the product-market fit ended up not being right. We budgeted for all of the team members that would be necessary to succeed, even if some of these may have seemed unnecessary at the start. Starting a business is risky in all cases – you need to maximise your chances of success, and this is what we based the budget of the company on. We know that we are fine until Series A, and can all concentrate on the important matters like actually building a product that people want, and then getting it out there.
So these are the three lessons that I have learned from my mistakes. I hope that I won't be making the same mistakes in future. I'd love to learn from your mistakes – leave a comment and let me know what lessons you've learned.