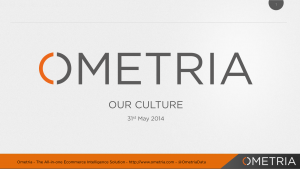 A while ago, I read a fascinating article which compared a startup to a cult. The author defined a cult as a "group of super high quality people who trust each other and have similar ways of thinking, learning, reacting, problem-solving and working together". Reading it, I immediately knew that that described the exact kind of organisation I wanted to build. So I wrote a blog post called "Your startup shouldn't be a company – it should be a cult" and since then, for a year, I've been working on a document that will define our little "cult" – Ometria.
Since the very beginning we've been able to build, maintain, and grow what I can genuinely, and confidently, call an exceptional team. The word started being used more and more in our office, and suddenly we found ourselves defining the Ometria culture rather simply. We are exceptional. Those three words stand for almost everything that we care about.
But as we've grown from nothing early last year, to a team of 20 now, I've realised that although the meaning of these words was clear for us, it wasn't clear to those people who weren't yet part of the team. Those who either wanted to join, but weren't right, or those who didn't know about us and our culture, but would be perfect. Only three people we've hired so far didn't work out, and our culture was effective at showing that they weren't right. But we could have spotted this earlier, and so I realised that what we had built, intrinsically, wasn't enough. We needed to codify it. We needed an artifact.
On Friday we had a board meeting, which consisted of four founders and three investors. For just under five hours, we debated the direction of the company and our product, and then at the end a discussion was raised about our burn rate, and whether having such a large team at such an early stage was appropriate. I ran through, in my head, every person who works at Ometria. Not one is unnecessary. But even more importantly – not one isn't exceptional. Straight after that board meeting, I delivered a presentation that I had been looking forward to giving for a year. The Ometria Culture Deck. What it means to be one of us. And as I saw the smiles on people's faces, and as I saw arms fly up all around as I asked "who wants to be that person", I knew that there wasn't a single person in the room who shouldn't be there.
That same evening, a few people sent me e-mails:
"I honestly believe that what happened in that room earlier was a historic moment in the history of Ometria"
"I've been meaning to send an email like this for a while but your presentation, for me, cemented exactly why the choice to join Ometria was one of the best decisions I've ever made. It's so refreshing to wake up every day excited to go to work with such an awesome bunch of people and to have the freedom to create things that I'm genuinely proud of – you completely hit the nail on the head in your welcome letter when you said work wouldn't feel like work!"
And our latest hire, very new and just starting to understand the Ometria culture, sent an e-mail about a completely different topic, and signed it: "J.P. – Ometrian"
We have succeeded. We have built the exact team, the exact company, the exact cult, that we wanted to. We are proud of it, and we want to shout it for everyone to hear. We are Ometrians. This is what it means to be one of us.